11

Mar
Want To Get Found?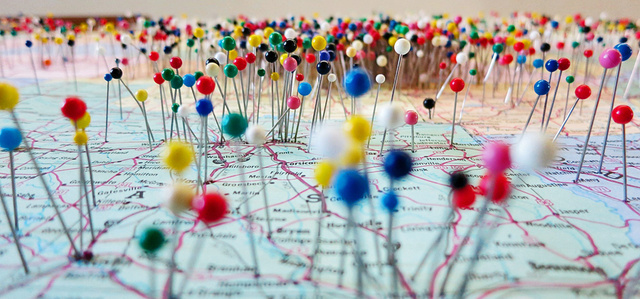 Last month I was showing a mobile web site to a client, a purveyor of fine food and spirits, OK – a pub owner. He had a real problem getting found. I ran a mobile search on "pub" while sitting in his establishment. I got hits for 7 pubs within a four block radius, but not his. This really was a problem, as he depends on business from travelers staying at nearby hotels and they use their mobile phones to find places to eat and drink. He had claimed his Google Places listing long ago, had filled out his information, had tons of great reviews, he even had the word "Pub" in his business name. But no hits.
In the mobile world, the key to getting business is getting found. Your customers are looking for you in the here and now. Let's talk about the here right now. The majority of mobile searches are location-based, essentially appending a "near me" to every search that doesn't explicitly specify a location. If I do a Google search for "pizza" on my smartphone, the results are going to default to "pizza near me", and are going to highlight seven mapped pizza joints nearby. This is known as the Google "7-Pack".
Your job is to get your business on the 7-Pack and as close to the top as possible. Anywhere else is nowhere. Am I going to tell you how to get on that list and climb your way to the top of that list? Of course not. Google keeps that information to themselves and changes it on a regular basis to keep people from gaming the system.
But one thing I do know – I know how to keep you OFF that list. Like the guy on the infomercial used to say, "You want to get rich? Watch the poor people. Don't do what they do."
In this case, let's take a look at the businesses that can't get found. Here's what they do with their Google Places listing…
Leave their listing unclaimed – Because Google will do a good enough job figuring out their business, just like they do for millions of other businesses in the world that actually claim and optimize their listings. And Google will do this for free, so they're really motivated to get it exactly right for businesses that don't even bother to claim their name online.
Enter inconsistent or incorrect NAP (Name, Address, and Phone) information - Everyone knows that West 16th Street is the same as W 16 St is the same as Sixteenth St. West, don't they? And since it's on the corner of 16th and Maple, why not just give a Maple Av address?
Ignore their category listings - The name of their business should tell it all. Like "Moe's". It's got to be a bar. Or a shoe store. Or a motorcycle shop.
Leave their listing incomplete - Who do these Google guys think they are, asking for website and email addresses? Why do they need to know service areas and hours of operation? Hey, you kids! Get off my lawn!
…don't do what they do. Don't even do it unintentionally. Google local search is an amazing service, providing more paying customers to your business that the yellow pages could ever dream of providing. And it's free, which means even if you don't take advantage of it your competitors will.
If you haven't claimed your Google Places listing, please refer to Jason McDonald's article Google Places Tutorial – How to Claim a Google Places (Google Local) Listing. Jason covers the basics of setting up a Google account, claiming your listing, and creating a listing if one does not already exist. For those who have claimed their listing and are ready to get started, please go directly to the Google Places for business Help Center and click on the Getting started with a local business listing on Google Places. Finally, for those of your who have a listing and want to optimize it, please take a look at the Google Places quality guidelines. While Google may keep it's specific ranking algorithm secret, it gives you everything you need to know to establish and enhance a Google Places presence for your business.
My client in the pub? Forget the 7-Pack, he wasn't found at all. We took a look at his listing and it turns out he had either neglected to enter his main website or had inadvertently deleted it when filling out the form. After correcting that single omission, and waiting about ten days for things to work their way through the Google system, he is now found at number 3. He may or may not stay at number 3, that's up to him, his competitors, and Google. But before this, a single missing piece of information kept him getting found at all.