10

Oct
Maps, Schmaps. We're sticking with Google.
Now that the brouhaha about Apple maps has died down, we just wanted to let you know that Ondiggo is sticking with Google Maps on the iPhone, rather than Apple Maps. Even though the Google Maps App is no longer available on the latest iOS version, the Google Maps mobile web site is more powerful than ever.
What does this mean to you? Ondiggo sites that use Google Maps will continue to work across all smartphone platforms (iPhone, Android, Blackberry, Microsoft, and other web-capable phones) and will automatically select either the Google Maps App or Google Maps Web, depending on what's installed on your phone.
As a matter of fact, we always have used Google Maps web to insert a locator map into your mobile site. This hasn't changed. Here's an example of a map embedded in the site we built for our favorite pizza joint. It's the same regardless of whether you've upgraded to iOS 6 or not.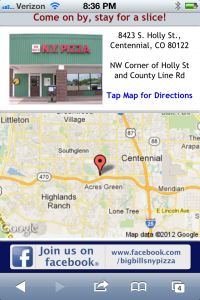 Tapping on the map will bring you to Google Maps and allow you to get driving directions. This is where things may look different, but will give you the same end result. If you haven't upgraded your iPhone to iOS 6, tapping on the map will bring you to the Google Maps App…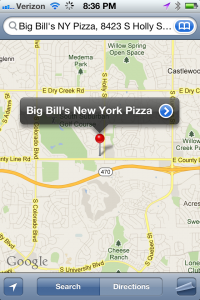 Clicking on the locator will allow you to get directions…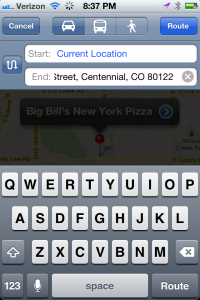 And will result in a a map with driving directions superimposed. You can click on the the icon in the lower right to get turn by turn directions.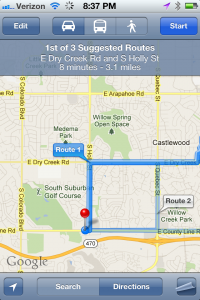 On iOS 6, where the Google Maps App has been removed, you'll go through a similar process using the Google Maps mobile web. When you tap on the locator map on the pizza site, you'll automatically be taken to Google Maps web…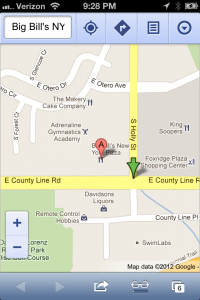 Tapping on the diamond shaped icon up top will allow you to select directions form your current location…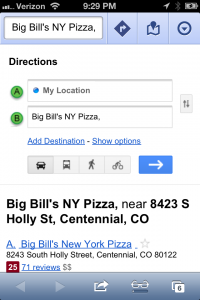 Tapping the arrow brings you turn by turn driving directions…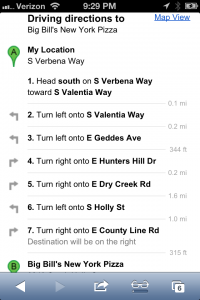 And tapping Map View brings you your directions superimposed on a map.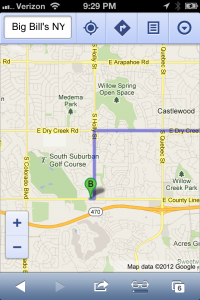 So no matter how you get your directions, you are only minutes away from pizza goodness.
Just so you know, Ondiggo hasn't had to make any changes to your mobile sites to make this work. If nothing else, the ability to use the Google Maps mobile site interchangeably with the Google Maps app shows just how far mobile web sites have advanced. Given the functionality of the Google Maps mobile site (which now includes Street View), are you really going to miss the app?