01

Oct
2013 Colorado Springs Science Festival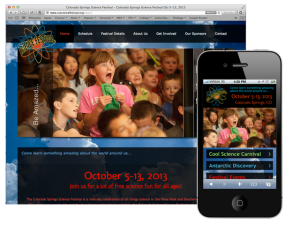 The 2013 Colorado Springs Science Festival kicks off on October 5th with the Cool Science Carnival on the UCCS campus. Last year's carnival attracted over 5000 attendees who participated in hands-on labs, demonstrations, and presentations on the past, present, and future applications of science in our lives. This is just the start of a nine-day celebration of science that consists of science education programs, films, and tours at thirty different venues throughout the region.
Ondiggo is an In-Kind Sponsor of the Festival and we have provided them with a mobile event site that helps participants plan their days and find their way from one venue to another. John Poss, Festival Director, explains. "While the desktop site we built provides lots of background information and detail for people to use prior to the Festival, it's overkill for people actively participating in the events. They  want to use their phones to quickly see what's available and to find their way from one event to the next. The mobile site from Ondiggo provides exactly that, an easy to navigate schedule with maps of every venue and direct access to Google for driving directions."
Steve Rothstein, Chair of the Colorado Springs Science Center Project, adds, "the Festival is a science showcase for the region, so it's important for us to leverage technology appropriately. Smartphones are ubiquitous these days and we wanted to take advantage of mobile technology to make the Festival a more enjoyable experience. Not only did Ondiggo provide the right technology and user experience with their mobile site, their use of color and design elements is completely in line with with our desktop site. It really enhances the brand."
The festival is focused on building science literacy, showing the fun of science, and encouraging kids to pursue scientific study. But while there are plenty of sessions for the whole family and lots of stuff that blows up and makes noise, it is truly targeted at all age groups – adults included. I am personally looking forward to the sessions on Whiskey Distillation Science as well as the screening of "Under the Ice with a Guitar Player – Underwater Video from Antarctica". Guitarist Henry Kaiser (dude has worked with both David Lindley and Richard Thompson and appeared on over 250 albums over 30 years – no slouch, he) spent ten seasons as a research diver and underwater cameraman in Antarctica. He'll be providing guitar accompaniment and commentary to his film footage.
But that's just my preferences. Go to www.cssciencefestival.org and see for yourself.
The Festival runs from October 5th through the 13th, but wouldn't it be cool to have these sort of events going on year-round? The folks at the the Colorado Springs Science Center Project think so as well, and that's why they are dedicated to bringing a leading-edge science and technology center to the city. Please check out their site online or contact them by email at info@csscp.org.